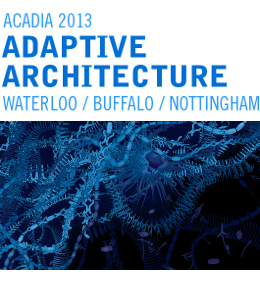 Association for Computer-Aided Design in Architecture 2013 International Conference

CONFERENCE: October 24-26, 2013
Cambridge, Ontario, Canada

WORKSHOPS and TOUR: October 19-23 & 27, 2013
Cambridge and Buffalo

The ADAPTIVE ARCHITECTURE 2013 ACADIA conference will be held at Waterloo Architecture in Cambridge, Ontario, Canada on October 24-26, 2013. ACADIA is an international network of digital design researchers and professionals. ACADIA supports critical investigations into the role of computation in architecture, planning, and building science, encouraging innovation in design creativity, sustainability, and education. ADAPTIVE ARCHITECTURE will bring together the spectrum of research and creative practice currently occurring within the ACADIA community. The event is supported by the combined research networks of the University of Waterloo, the State University of New York at Buffalo, and the University of Nottingham working in partnership with The London Building Centre Trust.
ADAPTIVE ARCHITECTURE will include a focus on computational design of environmentally responsive, intelligent, interactive, and reconfigurable architecture. Creators and researchers are encouraged to make submissions. A special program for student submissions has been created, accommodating student research and creation work at graduate and undergraduate levels.
ACADIA 2013 builds on the first Adaptive Architecture Conference held at the Building Centre, London, Spring 2011. 2013 Co-Chairs are Philip Beesley (University of Waterloo), Omar Khan (University at Buffalo, SUNY), and Michael Stacey (University of Nottingham)
Keynote Speakers
ACADIA 2013 Awards of Excellence
Excellence in Digital Practice: Cecil Balmond, Balmond Studio
Innovative Academic Program: AADRL – Brett Steele and Theodore Spyropoulos of the Architectural Association (London)
Teaching Excellence: Greg Lynn UCLA, Greg Lynn FORM
Innovative Research: Elena Manferdini, Atelier Manferdini
Society Award: Mahesh Daas, Ball State University
Best Student Paper: Matthias Rippmann, ETH Zurich
Exhibition
ACADIA 2013 is hosting Prototyping Architecture, an exhibition that brings together the work of architects, engineers, manufacturers, product designers, academics and artists to explore the importance of prototypes in the delivery of high quality contemporary design.
ACADIA 2013 is hosting the 2013 TEX-FAB International Digital Fabrication Competition: SKIN. Architects, designers and researchers are invited to participate. This year's competition focuses on the fundamental qualities of the building envelope.
Workshops
ACADIA 2013 Adaptive architecture is offering a wide range of specialized one, two, and three day workshops preceding the Conference from Saturday October 19 to Wednesday October 23 and following the conference on Sunday October 27. See workshops page for details. Workshop offerings cover topics ranging from scripting, simulation of complex systems, and digital fabrication with advanced manufacturers. Confirmed Workshops now include:
Fabric Concrete Constructions
The Rise: CITA Workshop
Design Computation, Integration and Optimization
Parametric Design through Reality Capture
Design for Manufacturability and Constructability: Custom Terracotta Façades
Rigidized Metal Forming
Design Analysis and Multi-Disciplinary Optimization
Registration
Registration for the conference is now open. See register page for details.
ACADIA 2013 and FABRICATE 2014 are partnering to create a shared conference discount of 2 X 50 OFF (50CAD + 50CHF) available for attendees who register for both conferences. See register, and the FABRICATE 2014 website for details.
Program


Tweets by @ACADIA_2013
Conference Location
The School of Architecture at the University of Waterloo is located in Cambridge, a city located in Southern Ontario at the confluence of the Grand and Speed rivers in the Regional Municipality of Waterloo, Ontario, Canada. The location is one hour west of Toronto and two hours from Buffalo, with direct connections to Pearson International Airport. The gathering will be in a cluster of historic buildings beside the Grand River, near beautiful forests, marshlands, and the Niagara Escarpment.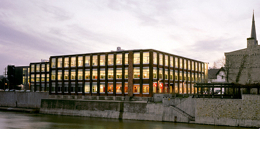 The School of Architecture at Waterloo is an outstanding nationally and internationally respected design school. Situated along the banks of the Grand River, the former industrial building provides wonderful spaces for design studios, labs, and classrooms. It also includes a superb design library, exhibition galleries, public auditorium, and cafe.