EXHIBITIONS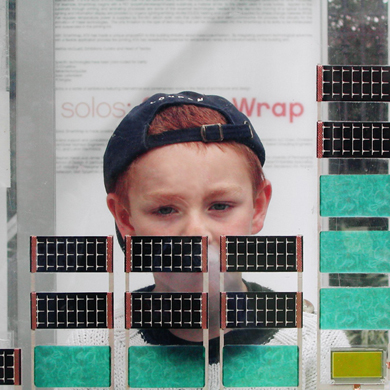 The performative skin of the SmartWrap Pavilion,
architect Kieran Timberlake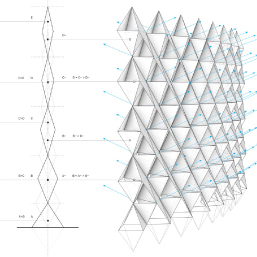 Project 2XmT - Rendering showing varying degrees of porosity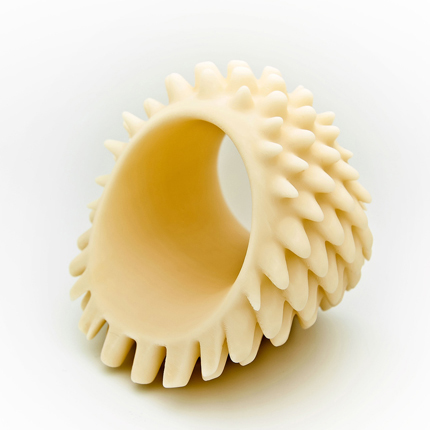 Making It Real - Arthur Hash Bracelet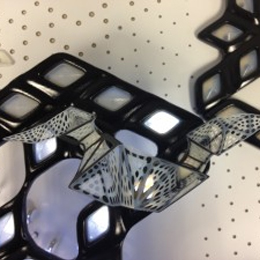 Synthetic Ecologies

PROTOTYPING ARCHITECTURE EXHIBITION
Curated by Professor Michael Stacey of the University of Nottingham
Prototyping Architecture explores the importance of prototypes in the delivery of high quality contemporary architecture - performative architecture that is inventive, purposeful and beautiful. The book brings together the work of architects, engineers, manufacturers, product designers, research teams, and artists, sourced from around the world. Placing a particular emphasis on research and experimentation, this book shows how prototyping can inform architecture with maquettes, models and full-scale trial assemblies. The importance of prototyping within architecture to achieve high quality construction is also examined. Essays by international leaders in contemporary architectural prototyping and design are included. The book documents the exhibition Prototyping Architecture, which was inaugurated at Wolfson Hall, University of Nottingham, 2012, and then shown at the London Building Centre Gallery, 2013, where it was accompanied by the international conference Prototyping Architecture. The final stage of the exhibition is at Design at Riverside Gallery and University of Waterloo, 2013 for the ACADIA 2013 Adaptive Architecture international conference, Cambridge, Ontario.
"New architectural prototypes show a kind of promiscuous exchange between widely varying sources, sweeping away traditional divisions between machine and hand crafts, and between nature and technology." Philip Beesley, Philip Beesley Architect Inc.
TEX-FAB SKIN
SKIN is a two-stage international design competition established to foster developments within the field of computational fabrication. Design proposals were solicited that further existing research by enabling prototyping at a large or full scale, and pushing proposals for new research and design concepts.
JURORS:
Phil Anzalone Atelier Architecture 64
Maria Mingallon Arup
Gregg Pasquarelli ShoP
Randy Stratman ZAHNER
Skylar Tibbets SJET

Cellular Complexity
Marie Boltenstern, Kais Al-Rawi, and Julia Koerner
Architectural Association, London
Project 2XmT
Nicholas Bruscia and Christopher Romano
University at Buffalo
Robotically Assisted Sheet Metal Shaping
Nathan Shobe, Qi Su, and Nick Lik Hang Gu
Harvard University GSD
Sense
Isak Worre Foged
Aalborg University, Oslo School of Architecture
MAKING IT REAL
Making It Real is exhibiting a selection of works, at the Musagetes Architecture Library at the University of Waterloo, October 21 - November 4 as part of the 2013 ACADIA Conference. It is a juried exhibition of digitally fabricated objects co-curated by Jesse Jackson and Greg Sims. The original exhibition took place at OCAD University in May 2013. Virtual objects, submitted electronically from around the world were "made real" locally using a variety of 3-D printing technologies. Making It Real showcases innovative works by artists and designers ranging from jewellery, industrial design, fine art, and other small objects that take maximum advantage of direct digital manufacturing.
ACADIA @ Digital Aptitudes | Synthetic Ecologies Workshop
This exhibition presents research developed during an intensive, two-day, "concept-to-completion" workshop at the Objet Headquarters in Billerica, MA preceding the 2012 ACSA National Conference in Boston. Working in groups with a team of expert consultants and across multiple software platforms, participants honed their digital and prototyping skills by experimenting with a range of digital production tools. Using design-thinking processes and critically positioned personal research trajectories, the participants developed components (parts) to form a larger network (whole) that addressed the immediate topography and its neighboring components. The resulting series of iterative prototypes range from locally- to globally-defined adaptations each negotiating issues related to material differentiation, texture, form, perforation, and light within a synergistic environment. The results of this technologically driven and application-based synthetic ecology were initially showcased at the Boston Park Plaza Hotel and then formally presented during a Special Focus Session during the 100th ACSA Annual Meeting.